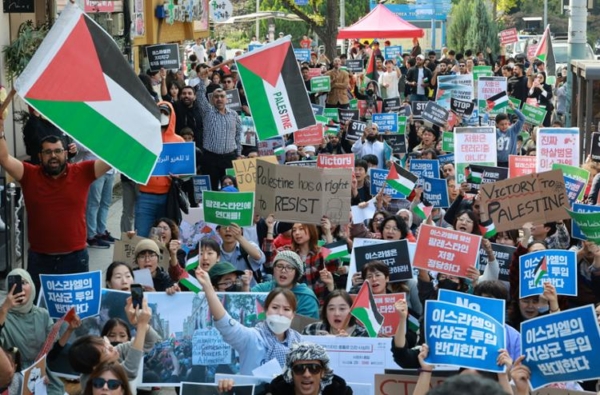 To add your name or organization to the list of signatories, please submit this form.
We, Korean people living in the United States, stand with the people of Palestine. Since 1948, when over 750,000 Palestinians were forcibly expelled from their ancestral lands, the Palestinian people have resisted colonization, apartheid, and genocide. Over the last few weeks alone, the Israeli occupation has slaughtered over 8,000 Palestinians, including thousands of young children. Despite a UN resolution calling for a ceasefire, Israel has refused to stand down.
Our hearts break for Palestine. As Koreans, we cannot help but look at Palestine's history and see reflections of our own. We know what occupation means because we lived it under Japanese colonialism. And we remember that our own freedom fighters — Koreans who gave their lives fighting for independence and liberation — were also once called terrorists.
Like Palestine, Korea's history is one of war, occupation, and division. The Korean War was the first "proxy war" of the Cold War. Nearly 5 million Koreans were killed, entire cities were turned to ashes, and our country was divided in two. The Korean War shows us that a ceasefire does not end an occupation. Despite the ceasefire in 1953, our homeland remains divided and at war today. The ceasefire did not end the war — it only gave it new life. Therefore, as Koreans, we know that we need more than just an immediate ceasefire in Gaza. We need an end to the Zionist occupation of Palestine, once and for all.
We denounce the ongoing genocide in Palestine and extend our love and solidarity to the Palestinian people. And we put forward the following demands to the governments of the United States:
Support an immediate ceasefire to put a stop to the killing, so that the people of Gaza can focus on rescuing the living and mourning the dead.
Immediately cut all foreign aid to Israel, which currently amounts to more than $3 billion a year from the US.
Lift the 16-year siege of Gaza and allow crucially needed medicine, food, fuel, water, power, and other supplies to reach people before it's too late.
We call on the Korean community in the US to speak out and stand in solidarity with the Palestinian struggle. Bring this statement to your churches, your schools, your workplaces, and your families and friends. And join us in Washington DC on Saturday, November 4 for the National March on Washington to Free Palestine.
In South Korea, the Yoon administration has abstained from UN votes calling for a ceasefire. Corporations like Hyundai have done business in Israel for years and profited from the oppression of the Palestinian people. And the US sells weapons to Israel that are made by South Korean defense companies. We reject South Korea's allegiance to Israel. We speak out as one people to join the international chorus demanding Palestinian liberation. We will not allow Israel to kill Palestinians in the dark. 팔레스타인 해방을 위하여!
In solidarity,
The Korean community in the US
To add your name or organization to the list of signatories, please submit the form below (or at this link).
성명서: 팔레스타인을 지지하는 미국 한인들
(서명자 명단에 이름이나 단체를 추가하려면 아래 양식(또는 이 링크)을 제출해 주시기 바랍니다.)
미국에 사는 한인인 저희는 팔레스타인을 적극 지지합니다. 1948년, 750,000명의 팔레스타인인들은 자신들의 땅에서 강제로 추방되었고, 그때부터 지금까지 팔레스타인인은 제국주의, 아파르타이드, 그리고 대량학살에 대한 저항을 멈추지 않았습니다. 지난 몇 주 동안에만 이스라엘은 8,000명이 넘는 팔레스타인인을 학살했고, 그중에는 수천이 넘는 어린아이도 포함되어 있었습니다. 휴전을 요구하는 유엔 결의안에도 불구하고, 이스라엘은 폭력을 멈추지 않고 있습니다. 
팔레스타인을 보며 저희는 한국의 역사를 연상할 수 밖에 없습니다. 일제 강점기를 겪은 민족으로서 점령이 무엇인지 똑똑히 알고, 목숨을 받쳐 해방을 위해 일본에 저항한 우리의 독립운동가들도 한때 테러리스트라고 불렸다는걸 기억합니다. 
팔레스타인과 마찬가지로 우리의 역사도 전쟁, 점령, 그리고 분단의 역사입니다. 한국전쟁은 냉전의 첫 대리전쟁이었습니다. 500만명에 가까운 한국인이 죽었고, 도시들은 잿더미로 남겨졌고, 한반도는 둘로 갈라졌습니다. 한국전쟁이 보여주었듯이 휴전은 결코 점령을 끝내지 않습니다. 1953년의 한국전쟁 휴전에도 불구하고, 한국은 오늘날 아직도 분단되어 있고, 전쟁 중입니다. 휴전은 전쟁을 끝내기는커녕 전쟁에 새로운 생명을 가져다 줄 뿐입니다. 그러므로, 한국인으로서, 저희는 이스라엘의 즉각적인 휴전만이 답이라고 생각하지 않고, 휴전을 넘어 시온주의자들의 팔레스타인 점령을 영원히 끝내야 한다고 믿습니다. 
저희는 팔레스타인인들을 대량학살하고 있는 이스라엘을 규탄하고 팔레스타인에게 저희의 사랑과 연대를 표하며, 미국 정부에 다음과 같은 사항을 촉구합니다: 
가자지구 사람들이 산 자들을 구하고 죽은 자들을 애도하는데 집중할 수 있도록 즉각적인 휴전을 지지할 것

현재 미국이 이스라엘에게 제공하고 있는 연간 30억 달러가 넘는 해외 원조를 즉각 중단할 것

16년간 이어온 가자지구 봉쇄를 해제하고 더 늦기 전에 가자지구에 중대하게 필요한 의약품, 식량, 연료, 물, 전력 및 기타 공급품이 도달할 수 있도록 할 것
저희는 미국 한인사회가 팔레스타인 투쟁에 목소리를 내고 연대할 것을 촉구합니다. 이 성명서를 교회, 학교, 일자리, 가족, 그리고 친구들에게 널리 알려 주시길 바랍니다. 11월 4일(토) 오후 2시 워싱턴 디씨에서 팔레스타인을 지지하고 연대하는 대규모 집회, 행진이 진행됩니다. 많은 참여 부탁드립니다. 행사 안내 
윤석열 정부는 휴전을 요구하는 유엔의 투표에 기권했습니다. 현대와 같은 기업들은 수년간 이스라엘에서 사업을 했고 팔레스타인 국민들의 탄압으로부터 이익을 얻었습니다. 그리고 미국은 한국의 방산업체들이 만든 무기를 이스라엘에 판매하고 있습니다. 저희는 이스라엘에 대한 한국의 충성을 거부하고, 팔레스타인의 해방을 요구하는 국제사회의 합창단에 동참할 것입니다. 저희는 이스라엘이 어둠 속에서 팔레스타인 사람들을 죽이는 것을 용납하지 않을 것입니다. 팔레스타인 해방을 위하여!
연대하며,
미국 한인사회 
(서명자 명단에 이름이나 단체를 추가하려면 아래 양식(또는 이 링크)을 제출해 주시기 바랍니다.)
---
ORGANIZATIONS
6.15 Committee for Reunification of Korea – DC
6.15 Committee for Reunification of Korea – NY
6.15 Committee for Reunification of Korea – LA
Center for Korean Affairs
Coalition of Koreans in America
Decolonizing Korean Studies Collective
Eclipse Rising

Hansoom

Keep Beyond
Korea Peace Now Grassroots Network – Washington DC Chapter
Korea Peace Now Grassroots Network – Pacific Northwest Chapter
Korea Peace Now Grassroots Network – New York / New Jersey Chapter
Korea Peace Now Grassroots Network – Philadelphia Chapter
Korea Policy Institute
Korean American National Coordinating Council
Korean Americans for the Progressive Party of Korea
Koreans 4 Decolonization
Koreans for Woori Schools
Nanum Corean Cultural Center

New England Korea Peace Campaign

Nodutdol for Korean Community Development
Our Iyagi
PAGEMA

Peace 21 (내일을 여는 사람들)

People's City Council – Los Angeles
Reunification of Korea
Street Smart Nutrition

Support Committee for Korean Prisoners of Conscience in US

Washington Butterfly for Hope
미주희망연대

미주양심수후원회 및 재미노동자투쟁연대

Korean American Artist Collective
INDIVIDUALS
Don Mee Choi, poet
Christine Hong, Korea Policy Institute
Duk Jin Hong, National Association of Korean Americans

Shinji Moon

, Hansoom

Pua'ena Ahn

,

Hui Aloha 'Āina

John H. Lee, Korea Peace Now Grassroots Network

Hyejin Shim

,

Korean American Coalition to End Domestic Abuse, ieumsae

Juyeon Rhee, Korean Americans for the Progressive Party
Yiyoram, Sangnooksoo

Nicola Kim

, Syracuse University
Cathi Choi, Women Cross DMZ, Korea Peace Now! Grassroots Network
Kathleen Richards, Women Cross DMZ, Korea Peace Now! Grassroots Network
Kit Lee, CAAAV: Organizing Asian Communities
Yong Lee, Koreans for Woorischools
Seoyoung Park,

아는언니합창단

Helen Kim, Korea Peace Now!
Seung Hee Jeon,

New England Korea Peace Campaign

Jahyeon Kwon, CUNY Graduate Center

Byul Yoon, Dissenters
Mimi Kim, KACEDA
Jo Rhee, Cal-Nev Philippine Solidarity Task Force, Korean Community Center of East Bay, San Leandro, CA
Pauline Park,

New York Association for Gender Rights Advocacy (NYAGRA)

Annabelle Kang,

CPC-ML Communist Party of Canada (Marxist-Leninist)

Monica Kim,

University of Wisconsin-Madison

Jackie Kim,

Sam Cha Bay Area

Tae Kyu,

Stanford Asian American Action Committee

Jamie Chang, MIT
Sunyoung Yang,

Grassroots Global Justice Alliance

Kelly Choi, Korea Peace Now NY/NJ

Sky Na, PUSO Southbay
Ryan Lee Wong, Writer
Sunmi, Author
Julie Lee,

Carnegie Mellon alum and Pittsburgh-Alabama artist

Dierdre Cook,

Asian American Justice and Innovation Lab (AAJIL), Critical Resistance

Iris Yi Youn Kim, Korea Peace Now! Grassroots Network
Alexander Park Adam, Studio Flot

Sasami Ashworth

Hyunhee Shin, Mirror Memoirs

Yoonhee (Yuni) Chang, Dissenters

Sheen Kim, Democratic Socialists of America – International Committee, Korea Peace Now!

Iksoo Han,

Korean Americans for the Progressive Party of Korea (KAPP)

Munjo Yu,

NC/SC 진실희망연대

Moon Jang,

Heinz Sa Dahn (Young Korean Academy) NY

Yoojin Lee,

Peace21LA

Dahn Bi Lee-Hong,

Korean Queer and Trans National Network – PNW Group

Tina Park,

Partnership on AI

Alison Choi, Northwestern University
Yuran Park,

Koreans 4 Decolonization

Bennett Shin Lacerte, Brown University

Sarah Lee,

University of Massachusetts Medical School

Nahmi Jones,

Korea Peace Now

Yong Lee,

Koreans for Woorischools

Shin Hwa Jung,

Korean American National Coordinating Council

Patricia Fish 손랑이, Students for a Democratic Society (SDS)

Cody Choi,

SuperCoze/So Dreamy Fest

Alex Kwanho Choi,

Korean Americans for the Progressive Party of Korea (KAPP)

Stella Lee,

Pennsylvania State University

Young Sun Han,

Korea Peace Now NY/NJ

Jae Soo Lee,

Coalition of Koreans in America (CKA)

Christine Ahn Women Cross DMZ, Korea Peace Now!
Carol Li, Korea Peace Now
Jessica Lee, Katarungan DC
Jonathan J Kim, KAPAC
Yong Ha, KANCC
Hyeseung Yoo
Haeri Lee, GYOPO
Keumjoo Lee, The Boston Candlelight Action
William 지호 Willis, Survived & Punished NY
Vero Chai, Rutgers University
Mili Yoon, Northwestern Law
Jun Ho Yoon, New York University
Hanbyul Jenny Kang, New York University
Siobahn Sung, KQTx
Gyver Tc, KPNGN
Dave Young Kim, KAAC
Tony Cho, Korea Peace Now!
Peter Kim,

Support Committee for Korean Prisoners of Conscience in US

Hannah Pae, GYOPO

Jaz Solana, KQTxNY

Soyeong Park,

Pacific College of Health and Science

Heejoo Kim, Princeton University

Morgan Owen 배기숙, Association of Korean Adoptees San Diego

Kevin Kang,

Tujunga United Methodist Church

Jiwon Kim,

Duke University

Samantha Bloom,

Brown University

Keumjoo Lee,

New England Korea Peace Campaign

Antoinee Jones,

Santa Monica College

Abigail Jinju Lee University of Oregon
Haruki Eda, University of Colorado Colorado Springs
Steph Rue, Korean American Artist Collective
Eun Bi Kim, MPH, John Hopkins Bloomberg School of Public Health
Mirue Kang, Brandeis SJP
Zavi Kang Engles, Apogee Journal
Jeeho Cha, Nodutdol
Hahna Cho, Nodutdol
Heidi Choi, Nodutdol
Eujean Doo, Nodutdol
Yena Jang, Nodutdol
Erica Jung, Nodutdol
Yeji Jung, Nodutdol
Jeongyi Kim, Nodutdol

Hannah Lee Scherr

, Nodutdol
Juhyun Park, Nodutdol
Riley Seungyoon Park, Nodutdol

Hyo-won Nakashio, Nodutdol
Simon Ma, Nodutdol
Betsy, Nodutdol
Minju Bae, Nodutdol

Yungsu Kim, Nodutdol

Nolan Castellano, Nodutdol
Jia Hong, Nodutdol
Alex, Nodutdol
Nino Lee, Nodutdol
Rosa Kwak, Nodutdol
Piece Whang, Nodutdol

Giboom Park

Hayden Smith

Janice Rothstein

Russ Lee
Phillip Lim
Jackie Park
Elli Kim
Jeong Kim
Tina Park
June Kim
Nahyun Kim
TJ Shin
Michelle Lee
Meredyth Yoon
Yerin Fink
Hea-Mi Kim
Hyunjae Shin
Esther hwang
Chad Park
Suah Oh
Erin Min
Tai Kim
Jane Kim
Dongkyu Kim
Ki Woong Park
Luke Kim
Toby Hyun
ann haeyoung
Dana
Eliette Choi
Daisy Hyon-Jee Sim
Roy Yum
Hayoung Song
Ed Vierra
Nico Choi
Jacquelyn Kim
Rachel Kim
Christina Jung Lee
Ariel Cho
Youngjoo Shim
Yuree Jang
Kate Shim
Yerin Kwak
Eunji Kwak
Minji Kwak
Sonya Chung
Daniel Sung In Kim
wonhee yun
Rose M. Kim, PhD
Christine Hong
Yoon Grace Ra
Katie Chun
Phoebe Kim
K. Saeyang
Yaeun Choi
Youngeun Na
Deborah Ghim
Yeojin ' Gene' Yoo
Chieun Kim
Chris Choi
Helen Lee
Sanghyuk Shin
Anna Cho-Son
Elise 민정 Lee
Kyunghee Eo
J Suk
Eunjung Kim
Merose Hwang
Amy Kahng
Eugene Choi
Sarah Yejin Hahm
Hyunsook Cho
Grace Kim
Audrey Kim
Rebecca Kang
Sabrina Kim
Phoebe Kim
Hanna Kim
Jiyu Park
Jean Cherhee Cho
Leah Hong
Jessica Hong
Robert Chung
Bora Yoon
Caroline Kim
Heejae Chang
Melissa Ponder
Leslie Hong
Caylee Song Larios
Tae Yeon Kim
Elizabeth Pak

Luke shin

Choi Hee Young

Natalie Song Scoggins

suea cho

Alice Chun

Emeizmi Mandagi

Grace Yumi Kang

Sung Kim

Joseph Kim

Cecelia Lim

Ji Hae Park

Grace Wong

Jessica Kim

Sydnee 진달래 Gee

Sara Spriggs

Seungwon Lee

Seungyeon Lee

Sunhee Volz

Tia Kuisle

Ren Lee

Madeleine Min

Estelle Yim

Yoona Bang

NaYeon Kim

Deb Kwon

Su-jin Kim-Holmes

Esther Kim

Evelyn Bea

Sydney Lee

Sunny Young

Eric Kinm

Jamie Lee

Eunsoo Jeong

Shinae Lee / 이신애

Seayoung Yim

Anna 진솔 Lee

Lynn "Jeong" Stransky

jae sun woo

nicholas

Hannah Kadin

Caleb L. Carman

Joseph Han

O Soo Vegh

Erin Kong

Hannah Kang

Lily Song

Alice Nari Kanzler

Laura Firebaugh

Rose

Sumin Hwang

Jr Reyes

Blue Park

Kay Park

christy

Michelle Hyun Kim

Jiae Kroencke

Ashley Hong

Clint Choi

Heaven Lee Kim

Clint Choi

Kwon Seoeun

Stuart Ahn

Gene Pak (Lucy Liyou)

Esther Hong

Jacqueline Kim

Ann Olson

Paul Kim

Jeannie Kim

Kat Sewon Oh

Jeemin Shim

Emma Cooper

Jin Park

Jess Chin

Monica Kim

PAUL LIEM

Jae Yeun Choi

David Choi

Heidi Kang

Deborah Choi

Yoona Lee

Candace Chewning

Suh Koller

HyoYoung Kim

Crystal Kim

Sarah Lee

Gil Kim

Ji Hye Choi

Sharon Han

lauren ahn

Sam Park

Justina Wu

Sara So
Collin J
Suyi Kim
John Choe
CS Park
Nicole Kim
cat
Jane Scully
Jeanhee Kim
Danny Park
Sam Kim
Theo Moon
Caroline Kwon
Lydia Park
Marie Choi
Michele Lim
Hyunsoo Kim
Mihye Kang
Hannah Shin
Franziska Lee
Tay Jeong
Jayy Covert
Martin Kim
Jay Kim
Alice D. Song
Esme Lee
Jaeeun Jun

Ruth Park

Diana Choi

Lauren Barnes
Dennise Moon
Victoria Cho
AJ Kim
Sophia Baik
Rev. Tong-Kyun Kim
Michael Kim
Yewon Son
Hyon Mi Chang
Yerim Choi
Paulin Kim
Jinah Kim
Jacob Clapham
Abby Hanul Kwon
Marianne Tassone
Sae Yeon Kim
Jennie Jung
Sooyun Choi
Susan Kang
Chae(lee) Dalton
Hana Lee
Caroline Koo
Hyunjee Nicole Kim
Jessica Lipton
Irene Honghee Cho
Daeun Jeong
Gina Lee
William Oh
Alan Kim
G
Sarah Kim
Sejin Ahn
Da In Choi
Stevie Marvin
Irving Lee
Yun-Hee Proffit
Stankus Marvin
Tara Kim
Hosu Kim
Yooree Losordo
Doo Kang
Dan Hong
Seola Lee
Hwayoung Shin
Katherine Argot
Clara Lee
Arie Kim
Ariel Lee
Summer Kim Lee
Nayoung Kim
Stacy Suh
Minkyung Kim
Euginia Paik

박영윤

June Hong
Spencer Olen Ward
Lolly Lim
Pearl Park
Kt Yun
Mee Na Kim
Esther Choi
Rachel Jinsun Kim
Bo
Olivia Kridle
Ashley Honda
Cristiana Baik
Nare Park
Masil Magee
Sola Shin
Casey Tokeshi
John Joo
Grace Kim
Olivia Park
Andy Jung
Christine Lee
Ji Hyun
Clara Choi
Hyelim Sim
Francis Sim
Joice Kim
Jiheun Cho
Youna Lee
Frances Woo
Joice Kim
Amy Yoon
Florence Pak
Eileen Ahn
Tasha Lee Essen
Celeste Yim
Ha-Yoon Lee
Michelle Cho
Percy Banks
Hannah Kim
Nina Baek
Kyu Lee
Haing B. Kim
Jimi Hong
Miyoung Cho
Tre Kwon
Nakita VanBiene
Madeleine Han
Jumi Jung
Stella Kang
Michelle Cho
Patrick Chung
Caroline Kyungah Hong
Julian A. Garcia
Caleb Skytte
Sally Sujin Oh
Saera Hur
Emily Ahn Levy
Lauren Kang
Lewis Oh
Nicholas Liem
Jessica Yu
Ali Lim
Yumi Lee
Juan Camilo
Ali Lim
Caroline Cheung
Jemin Na
Hyewon Mia Lee
Michelle Cho
Christine Cho
Sol Rhee
Yooju Choi
Bitna
Rita Gehrenbeck-Shim
Jungmin Lee
Beka Yang
Alice Hanna Min
Katelyn Lipton
Leena Cho
Seo Yun
Y. Park
Meghan McClain
Na Youngji
Hana Kim
Minhee Bae
Kimi
Jinsook Kim
Parker L. Jackson
Daniel Hahn
Dong Joo Cho
Jane Shin
Jean Park
Jason Joo
Derek
InChul Kim
Julie Lee
Lana Cho
Sandy Hong
Dalhe Kim
Soya Jung
Linda 효정 Choi

Krystal Olufson

Kathy Kim

Lauren Chiang

Alec Chung Lacerte

Eunjin Kwak 곽은진

Linda Chung

Soonyoung Park

Daniel Moon
Eileen Lee
Liz Suk
Jane Kim
Dae Yun
Hayong Lau
Elizabeth Kim
Sarah Oh
Jessica Kwen
Ashley Soyoung Lee
Winnona Yi
Jane H
Miso Jeong
Helen Hwayeon Kim
Yura Mendoza
Coira Lee
Nic Rider
Ramsay Liem
Madelyn Kwon
Heejoo Ko
Kimberly Luong
Kendra Valkema
Gloria Lee
Abigail Eunyoung Lee
enmi yang
Shirley Lim
Kristina Hwang
Nemu Hyun-Joo
Caroline Lee
Jessica Kim
Jee-Hee Haar (Hah)
Jane Kim
Jan
Mijin Yoo
이승주 Lee Seungju
Nhoua Xiong
Suh Hee Jun
Claire Chang
Tiffany HyeonBrooks
Dongho Moon
Jae Won Kim
Jill Murdock
Amy W
Abigail Lee
Eunice Kwon
chris yi suh
Madeleine Jost
Rian
Lauren Mihae Han
Sylvia Kim
Jeong Yeon Lee
Justin Macchia
Minwoo Jung
Kerry Andresen
Jennifer Lim
Tarah Stangler
Hanna Cho
Bomi
Eunice Jeon
Matthew Kim
Andrew Park
Amy Choi
Bailey Anderson
Choon Lee
Hayne Kim
Choon Lee
zooey kim conner
Mi K Park
HK Suh
Hannah Chung
Janie Ginocchio
Michelle Lee
Gina Meyers-Im 임진아
Harrow Sansom Choi
Ashley Chang
Adrian Han
Soomin Kim
Erica Oh
Jay Haar
Tonya Yim Bryant
Tonya Yim Bryant
Young Jung
So Kyung Choi
Alyssa Murguia
Eunyoung byun
Dongho Moon
James K.
Joanne Han
Theresa Jo
Allis Woo
Yong Lee
Hemi
Hong S.
goo lee
Joy Messinger
Sebin Jeon
Alison Kim
Kristen Kim
Dongho Moon
Heejin Kim
Chris Kang
Aeri swendson
So Yun Um
Haeun Park
diane paik
Alex Paik
Nathan Kim, MD
Yuna Park
Joyce Yang
jiyoon song
Stella Lee
Sarah Bae
Juyeon Shin
Kristine Chong
Deborah Kim
송미현
이종아 (Sam Lee)
Soo Lee
Annabelle Lee
Kaela Han
Kyu-Hui Lee
Miriam Yoo
eunice kim
Jennifer Chun
Alison Zarider
Jane Kim
Ewa Sobka
Bibi
Jessica Kim
Joo-Hyun Kang
Audrey Y Jang
Anthony Yooshin Kim
Matthew Blesse

Stephen Han

Sunny Hill
Claire Yoo
Sofia Park
Joyce Hwang
Morgan Becker
Hanna Shin
Mirai
Illahe Choi
Joseph Thomas Sungjin Jankowski
Nellie Sung
p hardy
Minky Kim
Chae Chun
Jiyoung Ahn
Meang Jang
Esther Lee
Joy
Gary Pak
Eddie Abreu
Yieun Kim
Jade Ariana Olivo
Rachel Ye
MG
Daniel Yuk
Rechelle Baasansukh
Grace Jeon
Phebe Palmer
Alison Hwang
Samantha Lee
Jeannie Juon
Yoonji Kwon
Rachel Kwak 곽지호
Heejoo Kim
YB
John Y. Kim
Andrew Cha
Jungwon Kim
Jinee Kim Rebouh 김진이
Deann Borshay Liem, Documentary Filmmaker
Yumi Pak
Stephanie Kim, PhD
Leesa Ko
Frankie Jung
Sungeun Park
phoenix ra
Jade Olivo
Ezra Rivera-Lopez
Harim Park
Diana Lee
Amy Hong
Sandra Kim
I. Mi-Yun Sohn
Jiyoun Kim
Anna
Elizabeth Song
Suhyun Choi
Joanne Lee
Grace Ko
Ramy Kim
Julia Kim
LEE Seungyeon
Min A Kim
Young Mi Peak
Sung Sok Pak
Sun Yung Shin
Su Hwang
Sue Park
Haru Chang
Hye-Kyong Kim
Jennifer Kim
Erica Yi
oli lee andersson
Shin Kyung Ja
Heather Kim
Yunjeong Jang
Ellie Koo
Tate Benson
Hye-Jung Park
Jong K Hwang
Myung Ji Cho
Julia Lee
Sunjae Lee
J.H.
Lauren Shin
Ha Kyung Oh
Rachel Dumke
Eric Kim
Seung Heon Sheen
Emilee Pelletier
Zoe Sua Cho
Ji y kim
Jeemin Shim
Whitney Kim
Janet Hwang
Alexis Kim
Esther Kang
Claire Choi
Jaein Jo
Janice Eunyoung Choe
Kate Jae Sun Sim
ye park
Sulkiro Song 송슬기로
Naree Kae
Jaye Cho
Keun-woo Lee
Gina Kim
Molly Benitez
Yong Ha
Jennifer Choe
Steve Kim
Bright Limm 임대중
Michelle Boulos
Ashley Park
Mona Malone
Kathryn Lee 이슬이
Hannah Kwak
Seo Eun Kim
Sooin Choi
Chloe Yang
Stella Kim
Hannah Yang
Nina Lee
Chris Baud
Sonn-Joo Lee
Ji Soo Kim
Che Sehyun
thad higa
Se Young Au
chan mee park
Leo Chang
Majid H Rebouh
Steph Rue
Joseph Kang
Charles Ryu
Joyhanna Yoo
Brian Han
Chang Kim
Meg Kim
Irine Kim 김이린
박 경희
Joyce Jang
Abby Choi
Lo
Audrey Park
Jong K Hong
Jungrea Chung
Katie Hewitt
Joan Lee
Sarah Jung Sook Buhler
Yana Velasquez
Nora Bryne
Chance Halter
Irang Nami
Sierra Lee
Grace
Jenny Park
Jeemin Shim
HeeJin Kim
Yongsoo Kim
Hui Chong In
Nicole Han
Yun
Paige Kim
Joseph Choe
Schuyler Swenson
Sung E Bai
Jean Kyoung Frazier
Hannah Choi
Kara Park
Suk ja kang
Chloe 미아 Halvorson
Soo Young Lee
Joon hwang
Christine Oh
Alex Hyun-ju Prewitt
Selah Shine
Jennifer
Kathy Baik
Hana Yoon
sarah khadraoui
Minjoo Kim
Agnes Han
Jasmynn Chong Roman
Elma Kim
Ishle Yi Park
Janice Cheong
Min Jung
Hannah Lee
Haery Na
Selena Knecht
Martin Jung
Dave Young Kim
Sarah Mostafa
Mia Kang
Ju Byul
Ahran Lee
Sue Kim
Choi Isul
Min Jung
Kristopher Choe
Bok Cha Oh
Danny Park
Anthony Kim Rispoli
Angela Cooper
Ji-hyun Seo
Agnes
tae min suh
Kristopher Choe
Kingsley Song
James Kim
Nahae Kim
Christine Cho
Jiwon Son
Jessica
Jennifer Kang
Devin Blaskovich
Yewon Kim
Ashley oh
Seri Hwang
Susie Kwon
Young Kwon