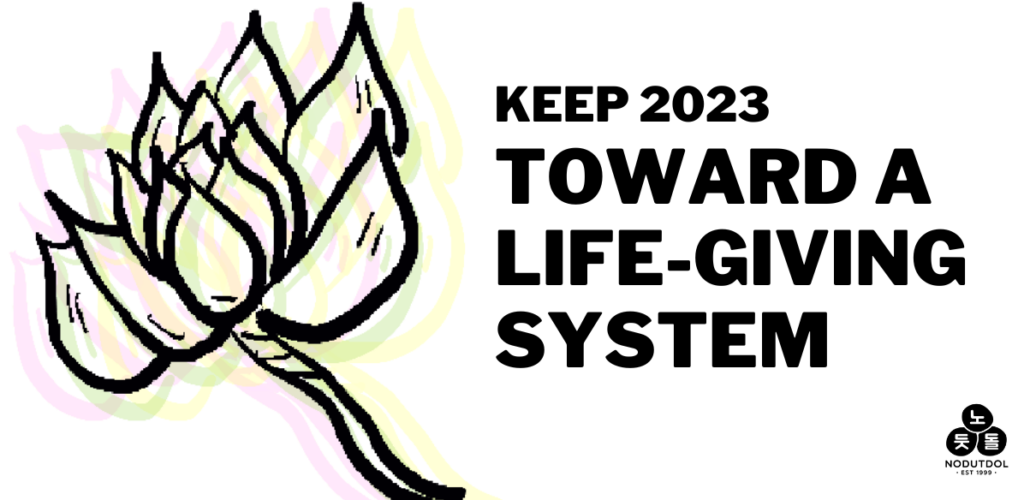 Nodutdol is restarting our Korea Education and Exposure Program (KEEP) after being on hiatus since 2017!  In light of our recent growth as an organization, a delegation of Nodutdol members will be traveling to south Korea this August to gain on-the-ground, direct experience with liberation struggles in the homeland. 
This year's theme is Towards a Life-giving System: Anti-imperialism and the Mass Line. We will meet in-person with worker, farmer, anti-war, and peace organizations during our trip.  We will observe how local organizations work in coalition with national headquarters, see what grassroots level organizers are working on these days, and discuss how they are meeting the intensified political repression imposed by the national security regime and Yoon administration.
KEEP participants describe their trips as life-changing! Supporting KEEP is a way to support Nodutdol's growth as an organization committed to the fight for Korea's independence.
KEEP delegate responsibilities include: 
Conducting in-depth study sessions in preparation for the trip

Giving public report backs upon returning to share what we learned

Contributing to anti-imperialist political education and mass organizing

Working toward Korea's reunification and liberation 
Since 1995, hundreds of people have participated in KEEP and have become part of our movement in the U.S. Nodutdol is honored and excited for this year's delegation and we ask for your help in fundraising for the program costs.  Due to the pandemic, inflation, and increases in living costs, we are expecting that this trip will be more costly than prior years, and we need support from our community to enable all of our member delegates to participate in this program.  

Your contributions will make a direct impact by covering KEEP participants' program fees (food, housing, transportation) and airfare. Participants are contributing what they can from their own personal funds, as well as launching their own fundraising efforts. Your contributions will go to the collective pot of funds to make this year's trip possible.
You can donate here, or navigate to our main fundraising page. Any amount you donate will be greatly appreciated! 
We are also planning to hold local fundraising events in the summer of 2023.  Stay tuned for more info!
If you have any questions, please contact us at keep@nodutdol.org.