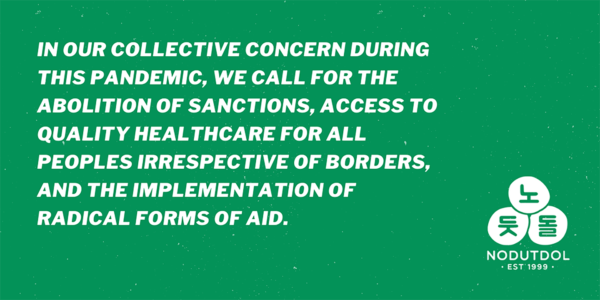 Nodutdol is in the process of cancelling, postponing, or making our events and meetings virtual. We are encouraging all of our members and partners to practice physical distancing and social solidarity, as well as mutual aid wherever and whenever possible.
We also denounce any racist media coverage of this pandemic that targets Asians and Chinese people in particular. In recent weeks, we have witnessed increased racial hostility and attacks within New York City and around the world, much of it fueled by media portrayals and social media rumors that equate Chinese people and Asians as invasive threats.
While American and "Western" media has heralded South Korea's response, almost no attention has been given to how US imperialism affects the health system in North Korea. US-backed sanctions imposed by the UN have caused severe shortages and disruptions in UN health programs; in 2018, this led to nearly 4,000 deaths of people dependent on these programs for survival, mostly young children. All goods containing metal are banned for import to North Korea by UN sanctions, which means nearly all medical supplies are also banned. Venezuela and Iran's healthcare systems have been similarly compromised by US sanctions, and their respective attempts to contain the pandemic and treat the sick have also been affected. In all, 39 countries are subject to some form of US sanctions.
While the US bans life-saving medical equipment for a number of countries abroad, it also denies adequate healthcare and resources to workers, disabled people, unhoused people, unemployed people, and incarcerated people domestically. Even in this time of crisis, the government's response has prioritized profit over people. 31 million people in the US are uninsured, and countless workers lack paid sick leave and are facing a sudden disappearance in wages. Over two million people are incarcerated in the US, half a million are unhoused, and tens of thousands of asylum seekers are held in border camps at the US-Mexico border. Instead of taking measures to protect these populations, the federal government plundered $1.5 trillion to give to corporations and banks.
Since the state will not act in our interests, we must all act to care for and protect each other. We encourage the formation of mutual aid networks that can meet the immediate needs of affected people. We encourage collective struggle and solidarity, as the capitalist system collapses, to provide relief for the unhoused, the incarcerated, the unemployed, the undocumented, the immuno-compromised, the uninsured, and for all workers in the US and around the world. In our collective concern during this pandemic, we call for the abolition of sanctions, access to quality healthcare for all peoples irrespective of borders, and the implementation of radical forms of aid.