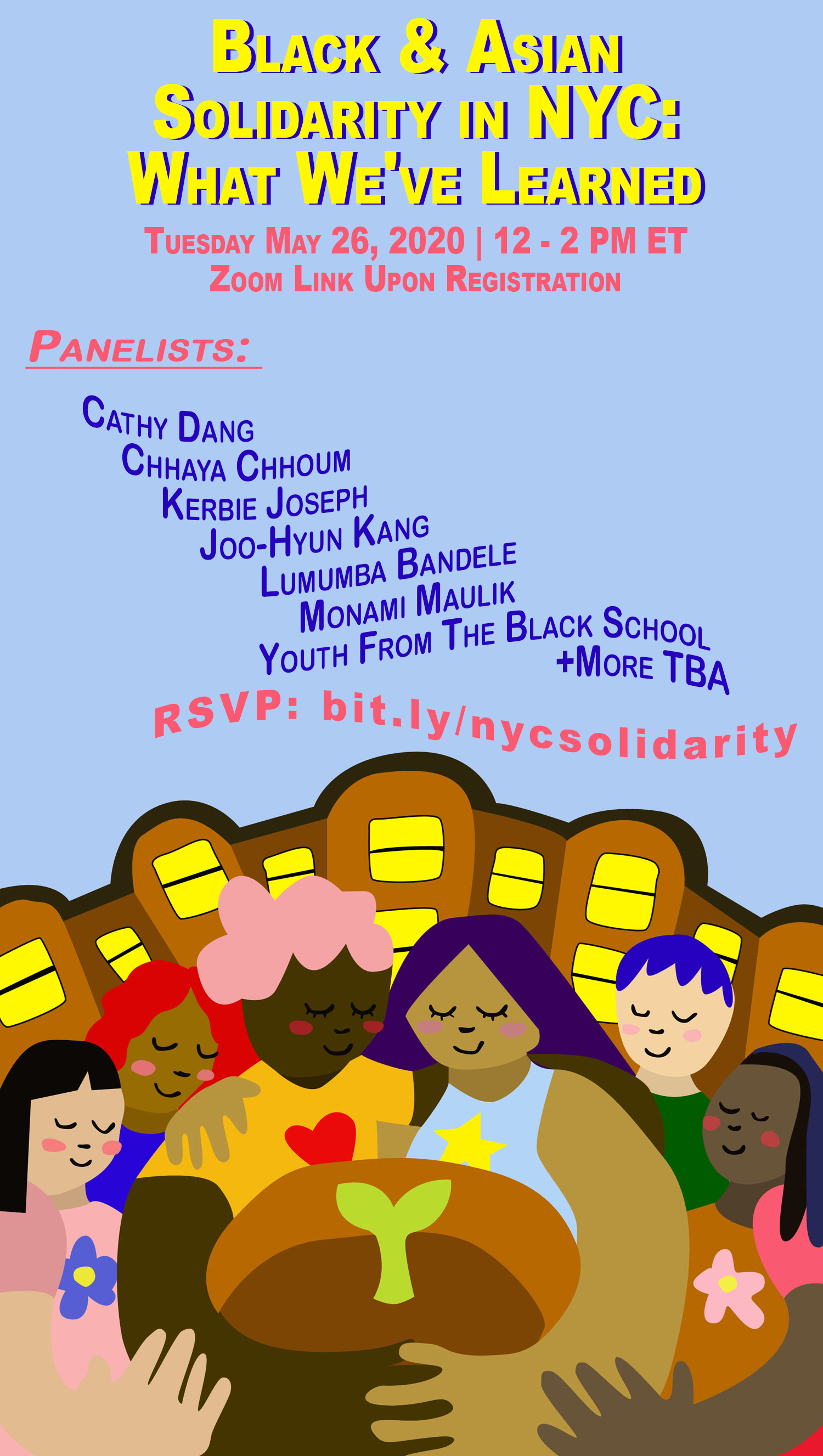 Co-Sponsors
Asian American Federation
Asian American Feminist Collective
Atlantic Pacific Theatre
The Audre Lorde Project
The Black School
Brooklyn Movement Center
BUFU
The Center for Anti-Violence Education
Center for Empowered Politics
Changing Frequencies
East Coast Asian American Student Union
Malcolm X Grassroots Movement
Mekong
Movement 4 Black Lives
Nodutdol for Korean Community Development
Seeding Change
The W.O.W. Project
Yellow Jackets Collective
DAY: Tuesday March 26, 2020
TIME: 12:00-2:00 PM EST
RSVP: bit.ly/nycsolidarity
Livestream link will be shared the day before the event with those who registered.

Please join us for an Intergenerational Dialogue about what we've learned from Black and Asian Solidarity in NYC.
In light of the growing wave of anti-Asian violence under COVID-19, we wanted to contextualize current racial tensions between Black and Asian communities within a historical analysis of Black and Asian solidarity in New York City. Through this discussion we hope to lift up examples of how our communities have come together in other times of crisis in this city, and to imagine better responses to violence than to dismiss anti-Asian violence or to call the police as a solution.
Panelists
Cathy Dang-Santa Anna has organized in labor and community-led development for 15 years in Los Angeles and New York City. She is formerly the Executive Director of CAAAV Organizing Asian Communities, and has played a critical role in shaping national alliances towards building greater political alignment on racial, gender and economic justice. Currently, Cathy is a consultant and a Senior Advisor with the Center for Empowered Politics (CEP), a movement capacity building organization that aims to grow our movement infrastructure, particularly around organizing and power building strategies. She is a 2019-2020 Soros Equality Fellow developing an organizing toolkit for organizations to combat ethnonationalism. Cathy is originally from Ridgewood, Queens and Los Angeles, California, and a daughter of Chinese-Vietnamese refugee parents who raised her in their nail salon in Downtown Brooklyn.
Chhaya Chhoum was born in Cambodia in 1978 during the fall of the Khmer Rouge Regime and was resettled in the Bronx in 1985 with her family as refugees. She began organizing as a young person taking on slumlords, overcrowded classrooms, and cutbacks in translation services at public assistance centers and local health clinics. In 2012, Chhaya co-founded Mekong NYC, a community-based organization in the Bronx empowering the Cambodian and Vietnamese community through arts, culture, community organizing, and advocacy, where she is currently executive director.
Joo-Hyun Kang is the Director of Communities United for Police Reform (CPR). CPR is a multi-strategy, multi-sector campaign to end discriminatory and abusive policing in New York. CPR works to build and redefine community safety in NY, strengthens community-based infrastructure to prevent and challenge police violence while reducing reliance on policing for safety, and has organized coalitions of 200+ organizations to secure landmark policy and organizing victories, including passage of the Right to Know and Community Safety Acts in the NYC Council in 2017 and 2013, and 2015 secural of a gubernatorial executive order establishing a special prosecutor for police killings in NY state. Joo-Hyun joined CPR with two decades of experience in social justice work as an organizer, trainer, and strategist with racial justice, LGBT rights, gender justice, immigrant rights, and police accountability projects. She served as the first Executive Director of The Audre Lorde Project, where she developed organizing programs for LGBTST communities of color.
Kerbie Joseph is a first generation Haitian woman from Brooklyn, NY and a community organizer with the ANSWER (Act Now to Stop War and End Racism) Coalition, No New Jails coalition, Justice for Akai Gurley Family campaign, and has organized alongside many police brutality groups and progressive politicians in NYC. Kerbie currently works at the Audre Lorde Project as the Safe OUTside the System program's coordinator where she teaches de-escalation, safety planning, safe space creation to households, shelters, businesses and to community members to buffer police interaction within marginalized communities. Kerbie has spoken at Yale University, Fordham University, NYU, Temple, CUNY, and at Adelphi University on topics such as: racism, police brutality, class, LGBTQ struggle, women's oppression and organizing. Kerbie formerly worked as a youth counselor at the Ali Forney Center which is the largest LGBTQ and Damayan Migrant Workers.
Lumumba Bandele is a parent, educator and lifelong organizer from Central Brooklyn. Lumumba currently serves as the National Strategies and Partnerships Director at the Movement for Black Lives.
Monami Maulik, bio forthcoming
The Black School youth, bios forthcoming
Co-hosts
Anthonine Pierre is Deputy Director of the Brooklyn Movement Center, a Black-led community organizing group in Central Brooklyn. She leads the organizations' work in base building, leadership development, and community safety. Anthonine works to implement BMC's organizing strategy and its capacity to nurture Black social & political leadership in Bed-Stuy and Crown Heights.
Meejin Seol Richart is a queer Korean adoptee and community organizer based in New York City. She is a member of Nodutdol for Korean Community Development and is focused on combating the lasting impacts of capitalist war and militarism through coalition-building and creative projects. She also provides ongoing support for the families of Akai Gurley and Ryo Oyamada.
Accessibility
We will have a graphic notetaker, closed captioning in English and live simultaneous interpretation provided via separate call line based on shared experience of most effective interpretation styles.